While the severing of ties was sudden, it has not come out of the blue, as tensions have been building for years, and particularly in recent weeks.
Two weeks ago, Egypt, Saudi Arabia, Bahrain and the UAE blocked Qatari news sites, including Al Jazeera. Comments purportedly by Qatari emir Sheikh Tamim bin Hamad al-Thani criticising Saudi Arabia had appeared on Qatari state media.
The government in Doha dismissed the comments as fake, attributing the report to a "shameful cybercrime".
Back in 2014, Saudi Arabia, Bahrain and the UAE withdrew their ambassadors from Qatar for several months in protest over alleged interference in their affairs.
More broadly, two key factors drove Monday's decision: Qatar's ties to Islamist groups, and the role of Iran, Saudi Arabia's regional rival.
While Qatar has joined the US coalition against IS, the Qatari government has repeatedly denied accusations from Iraq's Shia leaders that it provided financial support to IS.
Wealthy individuals in the emirate are believed to have made donations and the government has given money and weapons to hard line Islamist groups in Syria. Qatar is also accused of having links to a group formerly known as the Nusra Front, an al-Qaeda affiliate.
The SPA statement accused Qatar of backing these groups, as well as the widely-outlawed Islamist Muslim Brotherhood, and that it "promotes the message and schemes of these groups through their media constantly".
Where key countries stand on IS
Where does IS get its support?
While on a visit to Riyadh two weeks ago, US President Donald Trump urged Muslim countries to take the lead in combating radicalisation, and blamed Iran for instability in the Middle East.
"It seems that the Saudis and Emiratis feel emboldened by the alignment of their regional interests – toward Iran and Islamism – with the Trump administration," Gulf analyst Kristian Ulrichsen told Reuters news agency.
"[They] have decided to deal with Qatar's alternative approach on the assumption that they will have the [Trump] administration's backing."
Saudi Arabia, too, has been accused of funding IS, either directly or by failing to prevent private donors from sending money to the group – allegations it denies.
In recent days, British Prime Minister Theresa May has also come under pressure from election rivals to publish a report thought to focus on the funding of UK extremist groups by Saudi Arabia.
What has been the reaction?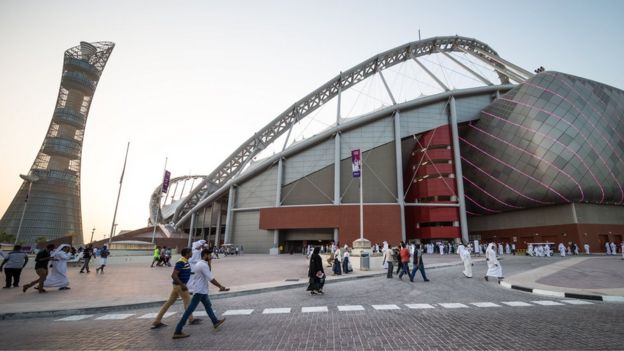 Qatar, which is due to host the football World Cup in 2022, was critical of the decision.
"The measures are unjustified and are based on claims and allegations that have no basis in fact," the foreign ministry said. It added that the decisions would "not affect the normal lives of citizens and residents".
US Secretary of State Rex Tillerson, speaking in Sydney, urged the countries to resolve their differences through dialogue.
Qatar's stock market plunged in early trading on Monday.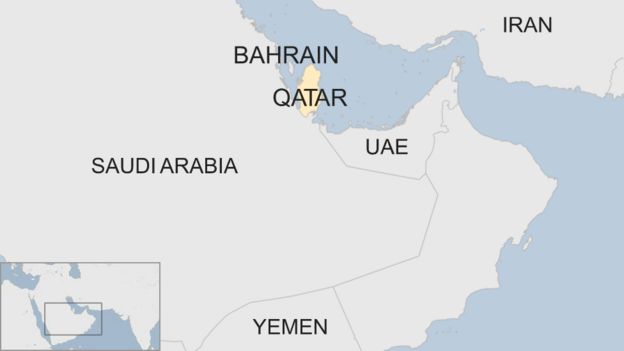 One of the likely knock-on effects is on food stability: about 40% of Qatar's food is believed to come by lorry from Saudi Arabia.
The Doha News newspaper reported that people had rushed to supermarkets to stock up on food and water.
---
Why this decision, and why now? – Alan Johnston, BBC Middle East analyst
There have long been tensions not far beneath the surface. Qatar has often seemed out of step with its neighbours.
It has tended, for example, to side with Islamist forces in the Middle East – like the Muslim Brotherhood, which is reviled by the Saudis and the current Egyptian leadership.
Past efforts by the neighbours to pull the Qataris into line have had limited impact. But now Doha has suddenly come under much greater and more co-ordinated pressure.
The neighbours have been given new confidence by President Trump's approach to the Middle East. The Saudis and the Emiratis feel they have his support, and that now is the time to solidify the Gulf camp's approach to the challenges they see around them.
They believe this is the moment to make clear to the Qataris that their divergent views will no longer be tolerated.
And right now this small country's rulers will probably be feeling very lonely indeed.