Latest news

: 12 people dead in London fire, police say

London fire: Twelve confirmed dead but police expect further fatalities after tower block blaze – latest updates

London fire latest: Twelve confirmed dead in Grenfell Tower as death toll expected to rise

London fire: Twelve dead in Grenfell Tower blaze
London Fire Brigade Assistant Commissioner, Steve Apter, said there were "still pockets of fire yet to be extinguished in places particularly difficult to reach" but "almost all" of the building had been searched.
Checks have been carried out on the building and it is not in danger of collapsing, London Fire Brigade said.
'Don't jump, don't jump'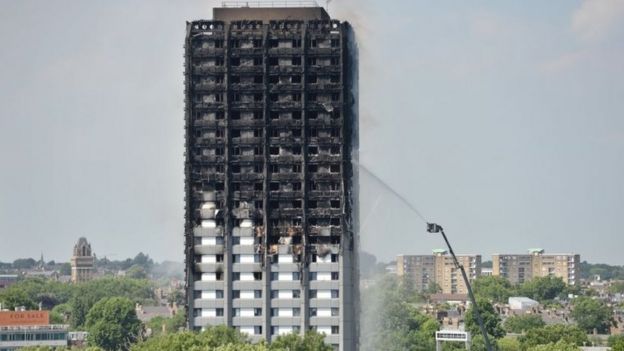 Paul Munakr, who lives on the seventh floor, managed to escape.
"As I was going down the stairs, there were firefighters, truly amazing firefighters, that were actually going upstairs, to the fire, trying to get as many people out the building as possible," he told the BBC.
He said he was alerted to the fire not by fire alarms but by people on the street below, shouting "don't jump, don't jump".
Labour demands answers over Grenfell Tower fire tragedy

'I saw people jumping out of windows'

Evening Standard photographer describes 'war zone' conditions
Eyewitness Jody Martin said: "I watched one person falling out, I watched another woman holding her baby out the window… hearing screams.
"I was yelling at everyone to get down and they were saying 'We can't leave our apartments, the smoke is too bad on the corridors'."
Michael Paramasivan, who lives on the seventh floor with his girlfriend and young daughter, said he ignored official advice to stay in your home.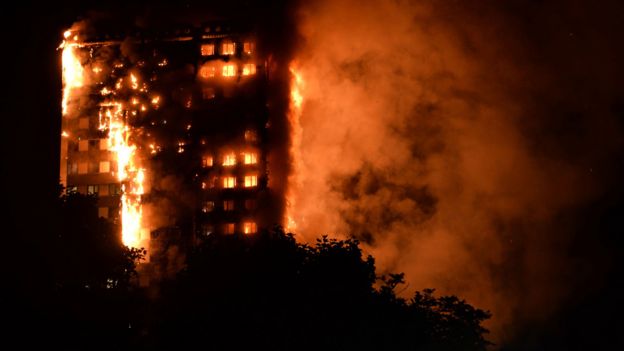 "If we had stayed in that flat, we would've perished. My gut instinct told me just to get the girls out. I wrapped the little one up because of the smoke and I just got them out."
Another resident, Zoe, who lives on the fourth floor, said she was woken by a neighbour banging on her door.
"The whole landing was thick with smoke. The smoke alarms weren't going off but the way it spread so quickly from the fourth floor, all the way up to the 23rd floor was scary."
The Royal Borough of Kensington and Chelsea council said it had placed 44 households so far in emergency accommodation.
For those unable to return to their homes, a rest centre has been set up at Westway Sports Centre, a statement said, and residents affected should call 020 7361 3008.